Next year, about 140,000 homes in southern California are going to benefit from solar electricity, generated from hundreds of thousands of mirrors in the Mojave desert absorbing energy from the sun.
The Ivanpah project, which is scheduled for completion in 2013, spans 3500 acres and will have 300,000 software-controlled mirrors to track the sun and concentrate its reflection to boilers that sit atop three 459 foot tall towers.
What is Lake Cable's contribution to this project? Cable, of course!
Giving the sun even more firepower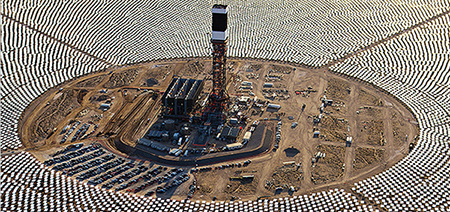 The Ivanpah solar thermal power system will take sunlight and create clean, reliable solar energy, enough to power 140,000 homes during peak hours and reduce carbon dioxide by more than 400,000 tons per year.
In cooperation with our renewable energy partner and an Israeli engineering firm, Lake Cable developed a complex composite cable which controls the mirrors in the solar field. The cable consists of power conductors and a high performance fieldbus cable protected by an overall steel armor maintaining a high level of flexibility for ease of installation.
The research, design, prototyping, first piece qualification and factory audit took over a year to complete. But when it was go time, we knew delivery mattered. As a result of our successful performance, the customer requested we double our weekly output. And we did, all the while maintaining the shortest lead time in the industry.
And we're just getting warmed up.
This is only the first of 3 planned sites. As renewable energy partners develop solar furnaces such as the one in the Mojave, Lake Cable will design and manufacture cable that drives the position of hundreds of thousands of mirrors to come.
It's just the kind of technology that's opening up a range of new possibilities for our partners to consider. This is only a small part of our broadening OEM product offering.
So if you work in the renewable energy field or are interested in how the technology behind this type of cable can bring greater productivity and precision to an upcoming project of yours, give us a call. We would love to help you with any of your OEM needs.
Give Lake Cable a call at 888.518.8086.