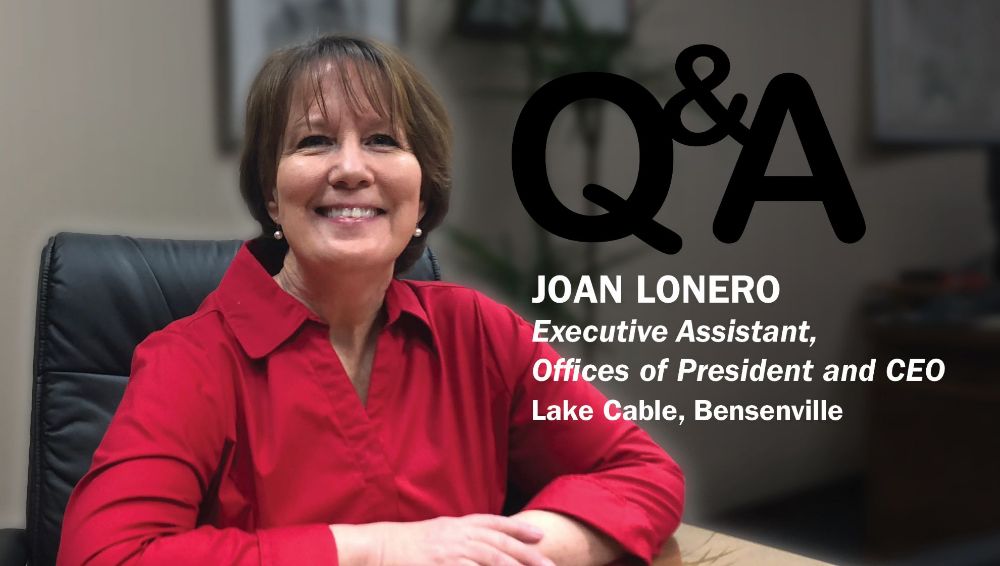 Question: How did your career start in the cable industry?
Answer: No big story there. I was looking for a new job and the employment agency sent me for an interview at Lake Cable. The recruiter said the owner was a great guy and if she were looking for a job, she would want to work at Lake Cable. The thing I remember most about the interview was how excited Bill Runzel was about making wire and cable and how proud he was of the company he was building. Lake Cable was pretty small back then. Everyone wore many hats and it didn't take long to get exposure to all the different parts of the business.
How long have you been with Lake Cable?
I started at Lake in May 2001.
What do you do at Lake Cable? Tell us a little bit about your role with the company.
I am the Executive Assistant to the President and CEO; however, if I had to give a job description it would be "Whatever needs to be done." The simplest description would be that it's my job to take care of the details so the President and CEO can focus on the big stuff to keep the company moving forward.
What do you like about working at Lake Cable?
Hands down - the people. There are so many talented professionals working here who also happen to be really good people. From the factory floor to the executives and everyone in between, the integrity, caring, and teamwork are unsurpassed. I feel very fortunate to work here and be a part of the team.
What do you like about your job?
It helps that my bosses are pretty terrific, but I think the thing I enjoy most about my job is the variety. I am always being pushed out of my comfort zone and forced to think outside of the box for solutions. I am constantly learning something and have exposure to new experiences and many different personalities on a regular basis.
My day can have me doing something very meaningful, very mundane, or something very bizarre – like the time I had to arrange for a cleanup of a wildlife area after the hose from the waste removal system on an RV came undone and sprayed "waste" all over the trees and those trying to empty it!
Who was the biggest influence in your career?
Growing up in a very large family, in a very small town, I learned early in life to appreciate and find a way to get along with many different personality types.
My first female role models were my mother and my six older sisters – all very strong women. In watching them I learned the importance and the power of kindness, honesty, respect (for yourself and others), gratitude, and hard work. I also learned to follow my instincts, that it is possible to be a leader and a team player, that everybody makes mistakes, and to always remember to make time for fun. The simple advice of treating others how you want to be treated goes a long way. They also taught me not to take myself too seriously and probably, most importantly, when life knocks you down, get up, say a prayer, and keep going!!
When you're not at Lake Cable what do you like to do?
Well, ever since "the accident", I can no longer participate in roller derby.
I spend most of my off hours with family – husband, kids, grandkids, siblings, and extended family. There are a lot of us so there is always some kind of celebration, activity, or adventure taking place.