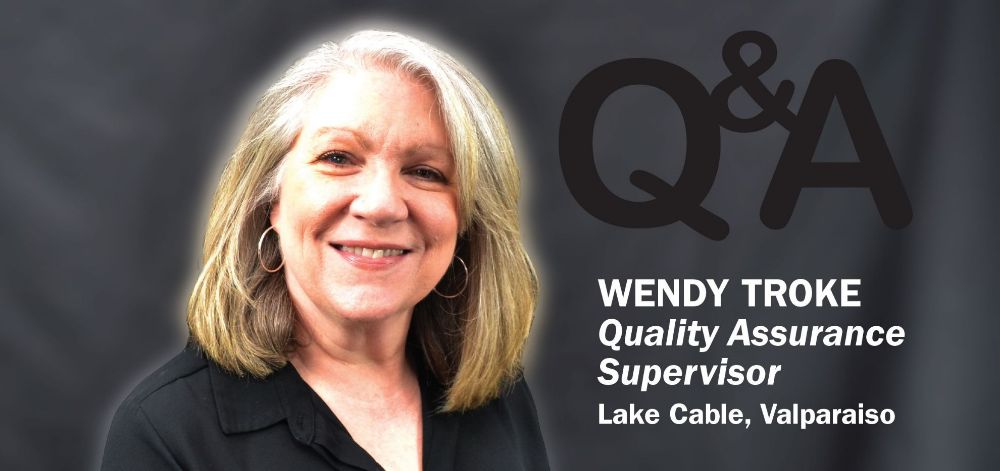 Question: How did your career start in the cable industry?
Answer: In 2005 I was a single mother of three young children looking for a job close to home. At the time I was commuting to a job 40 minutes from home for little pay and not very challenging. I heard from a friend, who heard from a friend, that Lake Cable had opened up in Valparaiso 10 minutes from my home. The pursuit began. I was relentless! I think I finally got an interview just to get me off their doorstep! And so the adventure began!
How long have you been with Lake Cable?
I have been at Lake Cable for almost fourteen years. I started in March of 2005. Lake Cable opened the Valparaiso plant in October of 2004. Fun Fact: We were called Prairie Cable back then.
What do you do at Lake Cable? Tell us a little bit about your role with the company.
My first 6 months, Lake Cable trained me as a Cable Operator. In January of 2006 I began my roll as Quality Assurance Supervisor. I have spent the past thirteen years working together with some of the most amazing people in the wire and cable business building a strong and robust quality program at Lake Cable.
What do you like about working at Lake Cable?
One of the things I like most about my job is being able to give someone an opportunity, training and tools, to succeed and watching them take off and soar! We have had many associates come to Lake Cable through the QA department and move to other positions with great success. It's so satisfying to see that personal and professional growth is our team.
What do you like about your job?
I would have to say the incredible people with which I get to work and collaborate are my favorite things about my job.
Who was the biggest influence in your career?
I have had some incredible mentors throughout me tenure at Lake Cable. My first teacher was Mark Despres who was the Plant Manager who recognized I would be better suited in Quality Assurance. He took the time to teach me about wire and cable and how to build a strong team. Lloyd Askew, an incredible teacher and my current boss, deserves the biggest SHOUT OUT. He is an amazing leader and has been responsible for the most significant improvements to Lake's quality system. It's been a privilege to work with him, learn from him, and be a part of his team.
When you're not at Lake Cable what do you like to do?
When I'm not at Lake Cable, I'm home with my family being a mom, my favorite and most satisfying job of all. This is where I find refuge, renewed creativity, and can goof off as much as I want!